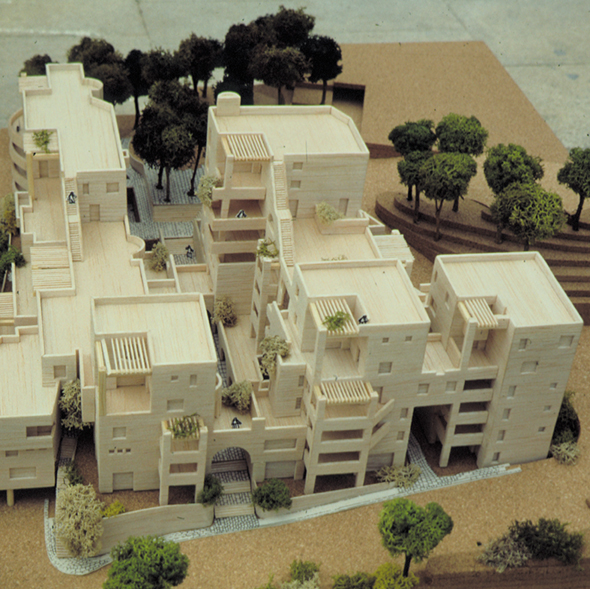 Balsa model of a residential quarter
The site is in the Lebanese mountains overlooking the Mediterranean Sea. The brief asked for private housing, a private residence for the project owner, and a luxury hotel with exclusive public amenities including shops, swimming pools, cafés and restaurants.
The site is carefully planned to respect existing groves and optimise on site gradients, with structures straddling the multi-directional slopes, opening vistas to neighbouring mountains and towards the coast. The design creates an open and semi-enclosed network of pedestrian streets that weave between private residences, with public and private realm intertwining gracefully with blurred edges, thus evoking the traditional Lebanese village way of life.
The new setting is multi-layered, a reinterpretation of traditional mountainous Mediterranean lifestyle, where even roof terraces become outdoor living space with breath-taking views of the Mediterranean Sea. Clad with local limestone, this is an endearing romantic take on the Lebanese 'modern vernacular' mountainous architecture.
While at the Atelier des Architectes Associés in Beirut, Dana was involved in the concept design development of the scheme, which started in 1992. Completed in 2000.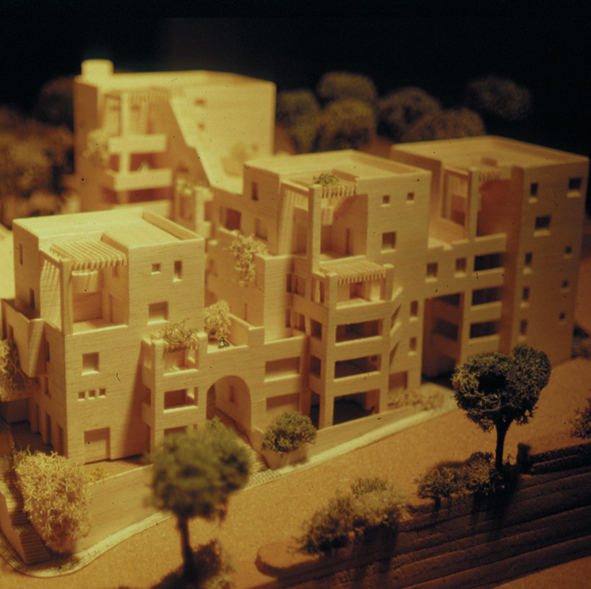 Balsa model of a residential quarter – nocturnal view